CURRENT  NEWS
Lady Bulldogs are once again D-II West Coast Conference Champs! On April 7, 2018, the Fresno State Women's team traveled to Vallejo to play against Reno and ended up beating the Wolfpack 78-17. On April 21st and 22nd, the Bulldogs will travel to Stanford to play in the USA Rugby Division II spring regional championships of 2018.
---
---
The club participated in a community service event on March 6th, called Kids Day where we lined the streets on the corner of Blackstone and Shaw Avenue selling special editions of the Fresno Bee. The money raised was donated to the Valley Children's Hospital. This event is spread throughout the central valley that a lot of organizations participate in. This is one of our favorite community service events because we get to give back to those in need and get to do it as a team.

---
---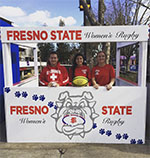 BOOTH ON CAMPUS
We are so excited for this semester not only because rugby season is starting but because our club got a booth on campus. On the Fresno State campus there are about 40 club booths that circle the University Student Union on the main part of campus. Due to the immense amount of clubs and the shortage of spots not every club gets a booth every semester. We are so excited to have a club booth because this part of campus gets the most traffic which gives us opportunities to recruit, promote our home games, and connect with the student body. All semester you can find members of the Fresno State Women's Rugby team at the booth. Stop by to say hello or ask questions.
---